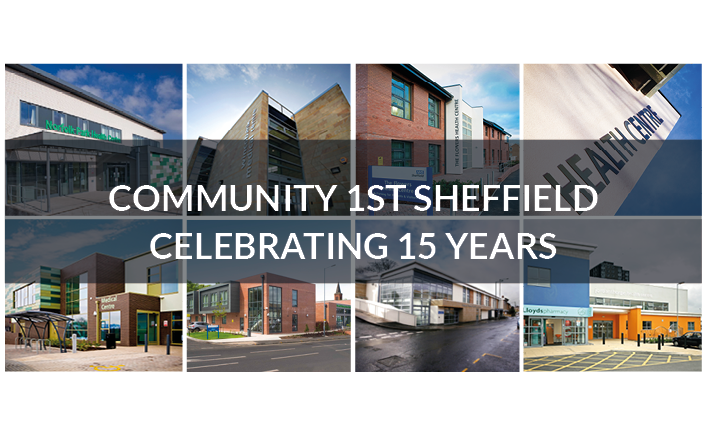 October 2020 marks 15 years since Community 1st Sheffield started to invest in the transformation of the local health estate in Sheffield; working in partnership with the local NHS.
We are delighted to share some of our achievements from this decade and a half.
Community 1st Sheffield started construction on our first projects, Wincobank Medical Centre and Deepcar Medical Centre in late 2005. Since then we have delivered £79m of investment in six state-of-the-art health facilities across Sheffield. We continue to own 128,284 sq ft of health estate, which we maintain to the highest standards.
These years have seen considerable changes in primary care, both locally and nationally.  We are proud of our strong partnerships and links with the local community, who have worked with us to respond quickly and effectively to these changes. The most recent examples of this are the rapid adjustments made to our buildings to ensure they are 'COVID safe' for staff and patients.
Our buildings are home to a range of primary care and community services, providing local neighbourhoods in Sheffield with award-winning facilities. However, we don't just deliver new build projects.
Over the years, we have provided a range of expert estate services, managing a variety of minor and major capital works projects across the local health estate on behalf of the NHS.
We are committed to working together with our local NHS and GP partners to support their changing estate needs. As a procurement cleared partner, we can be directly appointed without any delay.
In these challenging times, we look forward to continuing to offer a flexible, supportive estate service to meet NHS Long Term Plan goals and changing local service objectives.
#WorkingTogether #NHS #ExpertEstateServices #Celebrating15years #partnerships
https://community1st.co.uk/wp-content/uploads/2020/10/Website-Community-1st-Graphics-CR-amends25.png
463
705
The Community 1st Team
https://community1st.co.uk/wp-content/uploads/2020/05/community-1st-logo.jpg
The Community 1st Team
2020-10-19 12:29:14
2020-11-26 09:15:58
Celebrating 15 Years!