As part of our continuous service improvement programme, earlier this year Community 1st gained exclusive access to an advanced Infection Prevention Control System that has been developed by a leading Biotech specialist.
Our aim was to improve and expand our estate service offering and be able to provide our local partners with access to an enhanced Infection, Protection and Control (IPC) System that would achieve and maintain clean, safe, and infection-controlled environments during the height of the pandemic and beyond.
Our local NHS partners have faced the daily challenge of delivering additional IPC measures to enable routine NHS services to continue, along with the delivery of Covid testing in some designated areas. The additional cleaning and disinfection methods have been required to protect staff and patients from infection risks whilst working and attending for treatment in these environments.
Whilst necessary, these traditional infection control methods have placed strain on an already burdened system and does not provide a continual or measured protection against infection risks in these critical clinical environments.
To assist with addressing this challenge Community 1st provided the LumiBio managed service to the Oldham Integrated Care Centre.
LumiBio is an advanced, safe, all-encompassing infection control system that integrates seamlessly into existing IPC methods and cleaning regimes.
LumiBio has been independently analysed and tested for efficacy and proven to eradicate a full range of pathogens including Sars-Cov-2.
LumiBio complies with Public Health England guidance but does not carry any of the risks or potential side effects that other sanitising and disinfection systems provide. It is PH neutral and does not contain any bleach, bleaching agents, no UV light and does not produce any harmful gas. It is not a 'fogging' system, it is not administered by anyone wearing PPE and it does not have any adverse effect on staff, patients, the environment, or equipment.
The LumiBio system works in live environments (meaning no downtime) unobtrusively and silently protecting staff and patients and the facility they are in.
How LumiBio works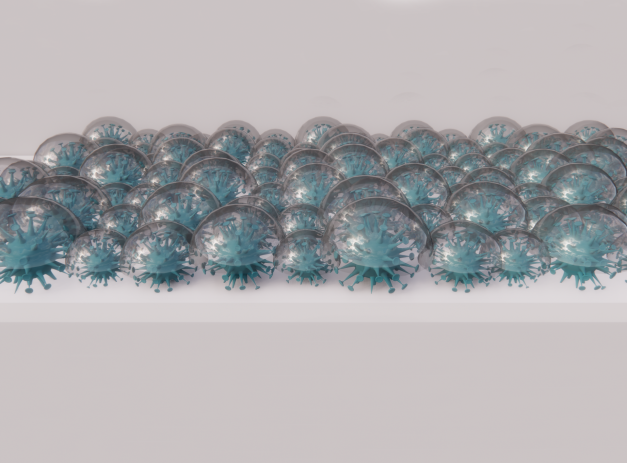 LumiBio uses an ultrasonic dry misting system that reaches all surfaces, crevices and undersides, to give a protective coating. The treatment is bacteriostatic and immediately penetrates the cell membrane. Working against specific targets it prevents respiration, synthesis and reproduction causing comprehensive damage and cell death, whilst remaining safe to human contact. The complex arrangement of anti-microbial compounds in the treatment provides outstanding results, with at least a 99.999% kill rate on all tested pathogens.
Consistently achieving zero pathogen levels in high-risk clinical areas at the Oldham Integrated Care Centre (ICC)
The LumiBio dry mist units that administer the disinfection treatment were provided in critical clinical areas at the ICC, including the Hot Covid area. Normal cleaning regimes provided by FM and Clinical teams were not affected or adjusted, and no additional tasks were required by the teams working in these areas.
LumiBio treatments were administered following normal cleaning regimes and ran between 6.30am-7.30am. The efficacy of the LumiBio treatment was monitored by the normal managed service element of undertaking daily swab testing. This analysis records and compares the effectiveness of the LumiBio treatment against areas that were subject to traditional cleaning methods only.
The results have been outstanding. Since early August when the LumiBio service commenced at the ICC each area treated with LumiBio has recorded and maintained close to zero pathogen levels including the high risk Covid testing area. Areas subject to traditional cleaning methods only, have recorded spikes in pathogen levels even with traditional and deep cleaning regimes in place which has highlighted the potential for increased infection risks to staff and patients in these areas.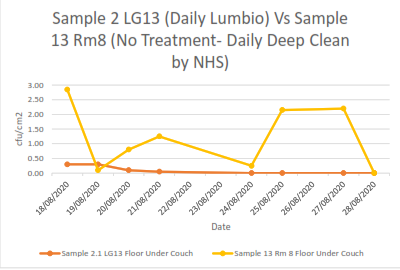 The graph above is an example demonstrating the variation in pathogen levels from Sample 13 clinical space which had daily deep cleaning, in comparison with Sample 2 taken from a HOT COVID area which had daily LumiBio treatment in addition to the deep cleaning regime that remained consistently close to zero.
Positive impact for staff and patients
Working with LumiBio, Community 1st has provided on site support and engagement for clinicians and users of the ICC throughout the introduction of the LumiBio service. This has enabled clinicians and staff to fully understand the safe and high impact nature of this IPC method, it has also provided evidence backed reassurance that the environment that they are working and providing critical treatments in are safe, continuously protected, and clean.
At the request of the clinicians working at the ICC, Community 1st has committed to continue to provide this service to the high-risk Covid area whilst discussions continue with our NHS partners with a view to roll out of the LumiBio service to other key sites such as vaccination hubs in the local area.
Want to know more?
To find out more about this effective wrap around Infection Prevention Control System and the impact it made at the Oldham Integrated Care Centre, contact the Community1st team.
E: info@community1st.co.uk
For more information about Lumibio and the benefits of using Lumibio in an NHS setting visit www.lumibio.com
https://community1st.co.uk/wp-content/uploads/2020/06/Integrated-Care-Centre.jpg
999
1500
The Community 1st Team
https://community1st.co.uk/wp-content/uploads/2020/05/community-1st-logo.jpg
The Community 1st Team
2021-01-21 13:44:23
2021-01-21 13:46:40
LumiBio – Protecting staff and patients